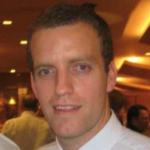 Nigel Anderson
Ba App Sci (Human Biology) RMIT; Ba App. Sci (Medical Radiations) RMIT; Doctor of Philosophy (PhD) Monash University Candidate completion date 2018.
Nigel was appointed Director, Radiation Oncology and Clinical Guidelines, GENI during January 2017.  He has held the role of Principal Research Radiation Therapist, Peter MacCallum Cancer Centre since November 2015. This work requires extensive multidisciplinary collaboration within the Peter MacCallum Cancer Centre and with several external partners, to enable innovative radiation oncology practice in a highly technical and collaborative profession. 
External partners include the Victorian Department of Health and Human Services, University of Melbourne, Monash University, local acute health services, consultants, international radiation oncology centres, and radiotherapy equipment vendors.  This collaboration facilitated projects concerning radiation oncology 'big data' implementation, radiation oncology model of care/business case development, Australian and New Zealand Research Network and cross-campus research protocol development, ethical review and clinical implementation. 
Nigel has ten years prior experience working as a clinical radiation therapist at the Olivia Newton John Cancer Wellness and Research Centre in Melbourne where he facilitated  the clinical implementation of a new radiotherapy treatment planning system and a stereotactic radiotherapy program, in accordance with Clinical Practice Guidelines. 
He has published 15 peer reviewed journal articles primarily in the area of head and neck radiotherapy, with a particular focus on improving practice to minimise the effects of radiation induced complications. He also has a particular interest in advanced treatment and imaging techniques to improve the quality of radiotherapy across multiple cancer sites. He has publications concerning clinical guidelines for head and neck radiotherapy, inclusive of reactive and prophylactic enteral feeding in definitive (Chemo) IMRT for head-and-neck cancer.
Nigel is interested in utilising evidence based practice to improve clinical guidelines and outcomes for cancer patients, which was the catalyst for commencing a PhD at Monash University in 2011 concerning "Improving Dysphagia Quality of Life Outcomes in Patients Receiving Head and Neck Radiotherapy". He has published a review of the applicability of current late dysphagia guidelines in the acute setting.  He is developing a tool to predict radiation-induced swallowing complications to improve transparency in clinical decision making, patient informed consent and clinical resource allocation.  Initial findings have been presented locally and internationally. Peer reviewed publication is imminent, with clinical validation of these findings the final step of his PhD.
Nigel is the recipient of several awards and grants, including the 2016 TROG Annual Scientific Meeting Travel Scholarship,  2015 North Eastern Melbourne Integrated Cancer Service (NEMICS) Grant, 2012  Best Paper Presentation at 9th ASMMIRT,  2011 Best Paper Presentation at 8th ASMMIRT, 2010  Best Paper Presentation at Combined Elekta Users Meeting, 2009 NEMICS Continued Professional Development (CPD) Grant,  2008 NEMICS CPD Grant and the 2007 Australian Institute of Radiography (AIR) International Travel Scholarship.