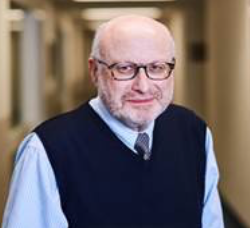 MBBS (Hons)  FRACP  FACP  FAChPM
Max Schwarz is Head of the Medical Oncology Unit at The Alfred Hospital, Melbourne, as well as a Consultant Medical Oncologist at Cabrini Hospital and Medical Centre, Melbourne, Australia.  He is an Adjunct Professor in the Department of Medicine, Central Clinical School, Monash University Faculty of Medicine, Melbourne, Australia.  
He is a member of the American Society of Clinical Oncology, the American Association for Cancer Research, the Clinical Oncological Society of Australia and Medical Oncology Group of Australia, of which he was a Founding Member, and on the Executive Committee from 1978 to 1987.
He has been a longstanding member of various subcommittees of the Cancer Council of Victoria since 1977, including the Victorian Cooperative Oncology Group.  He was a member of the Medical and Scientific Advisory Committee of the Cancer Council of Victoria from 1986 to 2010.  He was a member of the Australian Cancer Society Oncology Education Committee from 1999 to 2016. 
His research activities included participation in multi institutional clinical trials of various National and International Collaborative Groups, focusing on breast cancer.  In particular, this involved the International Breast Cancer Study Group, centred in Switzerland. 
More recently he was a clinical co-investigator in the Women's Health Program, Monash University Department of Medicine, Alfred Hospital, focusing on comparative patterns of care in Victorian women with early breast cancer. 
This research resulted in co-authorship of a number of publications in major journals. Clinical outcomes of this research, resulted in paradigm management changes in a number of breast cancer population groups.
 Contact:               max.schwarz@monash.edu